"You never told us" has long been the grumble from our grown up children when, from time to time, stories come to light about our connections with photography and the music business. While they knew about my managing Robert Palmer's first band, The Mandrakes from Scarborough in North Yorkshire, the cry first came when I mentioned the band sharing a dressing room with Jimi Hendrix. The trouble is there are so many stories, from so long ago, that it has been difficult to remember, let alone know where to start. However, there are now two web sites where I am regularly uploading my photography and preparing these images is helping to trigger the memories.
It all started a few years ago when Island Records contacted me about acquiring some of my pictures from the period 1971 to 1976 for an anniversary celebration. During this period my wife, Marylin who is a graphic designer and I, we're effectively Island Records' in house design department and we were fortunate enough to work with many of their iconic artists, some of which are shown below.

Mott The Hoople, with Ian Hunter on the far right, photographed on the North Yorkshire Moors above Middlesbrough in January 1971 during a photo session for their Wildlife album cover.
Vinegar Joe with a front line of L-R Pete Gauge, Elkie Brooks & Robert Palmer photographed at the BBC in October 1973 during a recording for The Old Grey Whistle Test. It was Robert Palmer who introduced us to Chris Blackwell of Island Records..
John Martyn photographed at Island Records' Basing Street Studios in July 1973 during the recording of his Inside Out album. We were fortunate to do a lot of work with John Martyn, which included a number of his album covers. This picture was used in the inside of the 'Inside Out' gate-fold cover, for which we also designed the front and back.
Fairport Convention photographed by a communal garden in a West London square in 1972. This standard group shot shows one of their many line-ups, which changed regularly. With Island's press office always needing up-to-date pictures, the regular changes provided lots of work for photographers.
Traffic with Steve Winwood on stage in Rome in March 1973 during Traffic's On The Road tour during which a live album of the same name was recorded. I travelled with the band on the tour and this picture was used for the whole of the inside of the gate-fold sleeve.
Roxy Music, with Bryan Ferry second from the left, in the video studio at The Royal College Of Art during the shooting of their first ever music video, which I produced, in July 1972. I also took some of their first studio press pictures two months later in September 1972 at my studio just of the Portobello Road in West London.
Island were looking for pictures for a documentary film, a book and an exhibition to celebrate their 50th anniversary, so I started digging into my archive for the very first time. I ended up scanning and retouching about 150 images for submission to Island, about 30 of which were used. Looking at what to do with the rest of the pictures I had scanned and retouched, I got in touch with Redferns Music Picture Library to see if my material was of interest to them and whether there was any value in them. This was quite a reversal, as I had given Redferns a very wide berth during most of my time in London, more of which later.
While I was in negotiations with Redferns they were swallowed up by Getty Images, who were very interested in all my music business material from the 1970's and 1980's when I regularly worked for Island, Chrysalis and Virgin Records. I am now slowly uploading images, as and when I can find the time to scan and retouch my old negatives and transparencies. My pictures are available at Getty Images.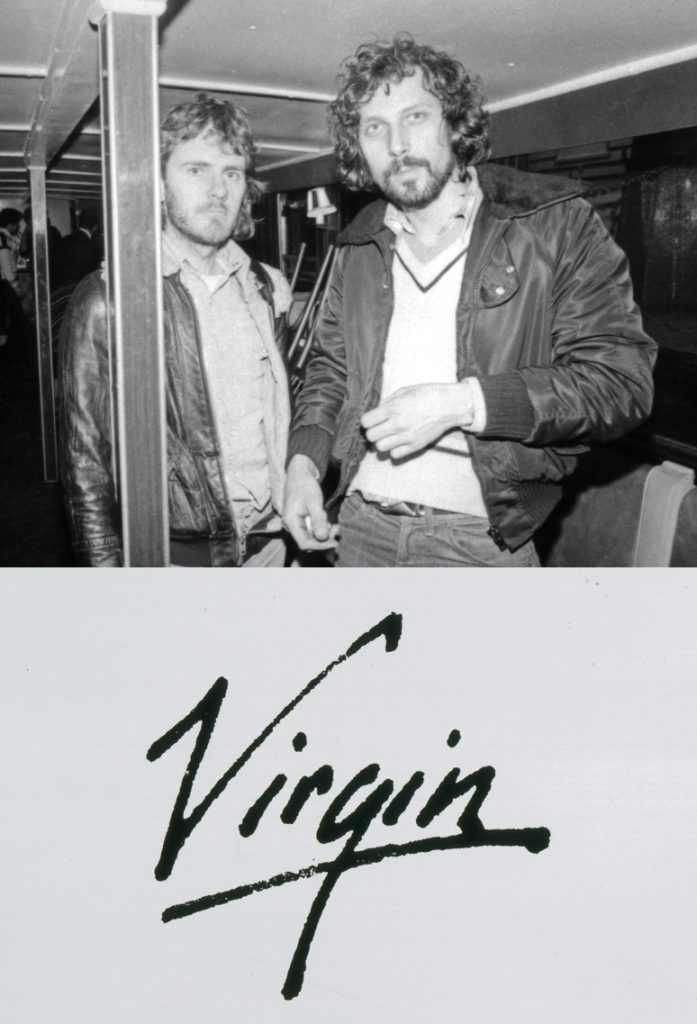 However, it is not just about a revenue stream, as this process gives me the opportunity to get our old material 'out there' rather than being buried in boxes in my loft and it provides the basis for telling the stories, hence this blog. And there are stories to be told from how I got started, The Mandrakes sharing a dressing room with Jimi Hendrix, through photo sessions with both nice and not so nice artists, events such as The Sex Pistols Silver Jubilee Boat Trip, to the real story behind the design of the Virgin 'scrawl' logo. Pictured is me on the left with my Cooke Key Associates partner Trevor Key on the Sex Pistols Silver Jubilee Boat Trip and the iconic Virgin Logo, which we designed.
Fortunately, I have kept everything in my archive such as diaries, negatives, some colour transparencies and the final printed products. Unfortunately, in most cases the record companies kept the colour, and where is all that material now one may ask? However, now that I have got going it is turning into a bit of a memoir, so I had better start at the beginning.