It all really started when I was about 8. I was staying in Brookmans Park, which is 20 miles north of London, with an aunt. My mother was staying in London at the Coburg Hotel in Bayswater, cavorting with one of her boyfriends, and so it was that I was duly despatched on a suburban train to be met by her at Kings Cross. However, it was not known by either my aunt nor my mother that at that time some trains stopped at a suburban platform to the east of the main line station and then carried on underground to Farringdon & Moorgate. On arrival in London, I was dropped off by the train guard with who I had been travelling at Kings Cross York Road Station and dutifully sat there waiting for my mother.
York Road was right at the throat of Kings Cross main line station and from the vantage point of my platform seat I could see all the comings and goings from this busy London terminal. It was the Mid Fifties and steam was still very much the thing and this experience became the catalyst for a life long passion for, and involvement with, steam locomotives. This has involved part owning two locomotives which were bought from a scrap yard in South Wales and restored over many years to operating on the main line, where they ran on special charter trains.
One highlight was a week long tour in July 2000 hauling a special train carrying JK Rowling around the country to promote the publication of her fourth book, Harry Potter and the Goblet of Fire. The picture shows at the top, one of two specially made locomotive nameplates and below, the special headboard carried by the train as we took her round the country between London & Perth for a series of book signing and PR events.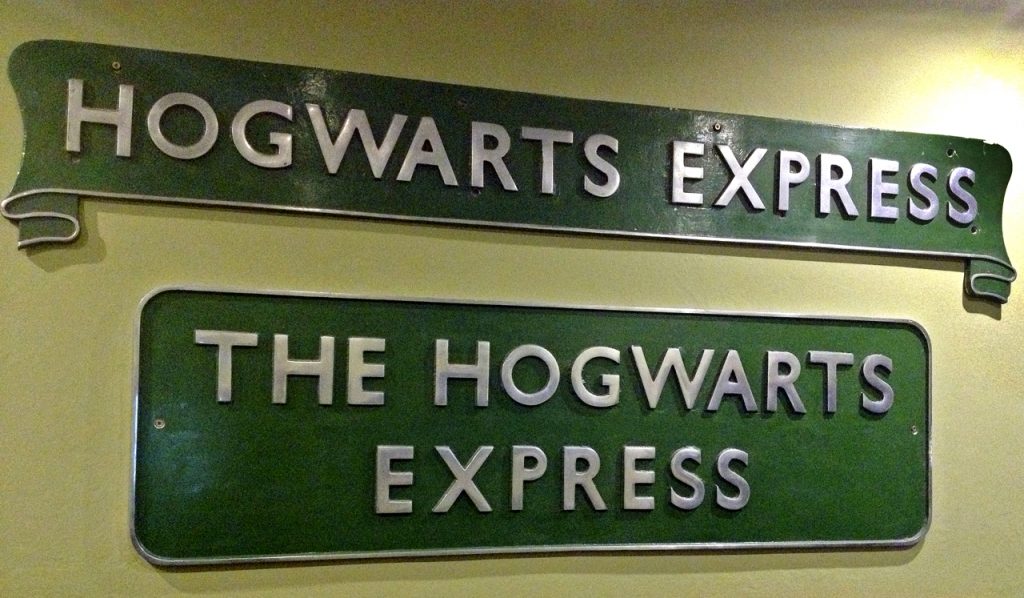 However, back to the 1950's and after what must have been quite some time I was finally discovered by a porter, who much to my disappointment escorted me round to the Station Master's Office in the main station, to be re-united with my distraught parent. I was having much more fun watching the trains.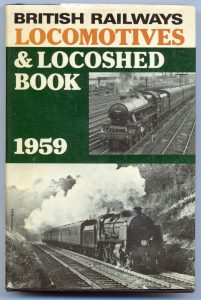 Following this adventure I very soon got hold of an Ian Allen abc of British Railways Locomotives Combined Volume and started collecting engine numbers. The book contained a list of all the locomotives working at that time in the UK and the idea was to underline the number of each engine as and when you first saw it, which was called a 'cop'. Scarborough was pretty quiet in the winter but as soon as Easter arrived the steam action would kick-off with regular excursion trains bringing holiday makers from exotic origins in the West Riding of Yorkshire, such as Kippax. But never the passive observer, I soon hankered after a camera so that I could record what I quickly learned was soon to become the demise of steam power on British Railways.
I started out with the family Box Brownie but ever the perfectionist this did not give me the results I craved and in any event, at age 12, I could not afford the film, processing or printing. To remedy the situation I got a Saturday job with local photographers who had a shop and general photography business. Croft's Photo Services of North Street Scarborough were to be my road to railway nirvana.
However, at such a young age, the Saturday job was only made possible by my already having a grasp of the basics of developing and printing, for which my thanks must go to one Ray Winship. Looking back it is clear to see just how random life is and my life would have been very different had I not been hospitalised in early 1960 with a serious nose bleed and accompanying anaemia. I was sent to nearby Filey to recuperate with another aunt. Ray, who was an enthusiastic photographer, lived next door and working as a projectionist at a local cinema, his days were free. We instantly 'clicked' and seeing that I had an interest in photography, all be it to photograph trains which he just did not get, he took me to the Filey Photographic Society's premises where he taught me to process films and make prints. I put Ray down as the first major influence in my becoming a photographer. I understand that later on while working as a photographer on a cruise ship, he met and then married an oil heiress. Well done Ray.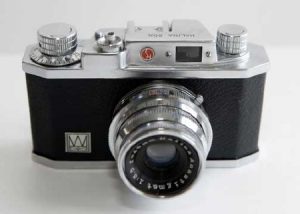 In July 1960 I bought an Halina 35X, which was a 35mm viewfinder camera made by Haking in Hong Kong. It was bought on the never never from my employers and I struck a deal whereby I could have B&W film from the bulk rolls that they used to split and put into film cartridges for sale in the shop. This was one of my regular jobs on a Saturday, so putting a film or two on the side for myself was never a problem.
This is an advertisement from the 1963 British Journal of Photography Annual showing the Halina range of cameras. Equiped with four shutter speeds and even more aperture settings, the 35X was obviously their top of the range camera.
While all my railway photography was in black & white, which was free, I did buy one colour negative film for a special event. This was the presence of the Royal Train in York, which was an hour's train ride from home. This day it brought the Royal Family and guests to the Minster for the wedding of The Duke of Kent & Catharine Worsley on June 8th 1961.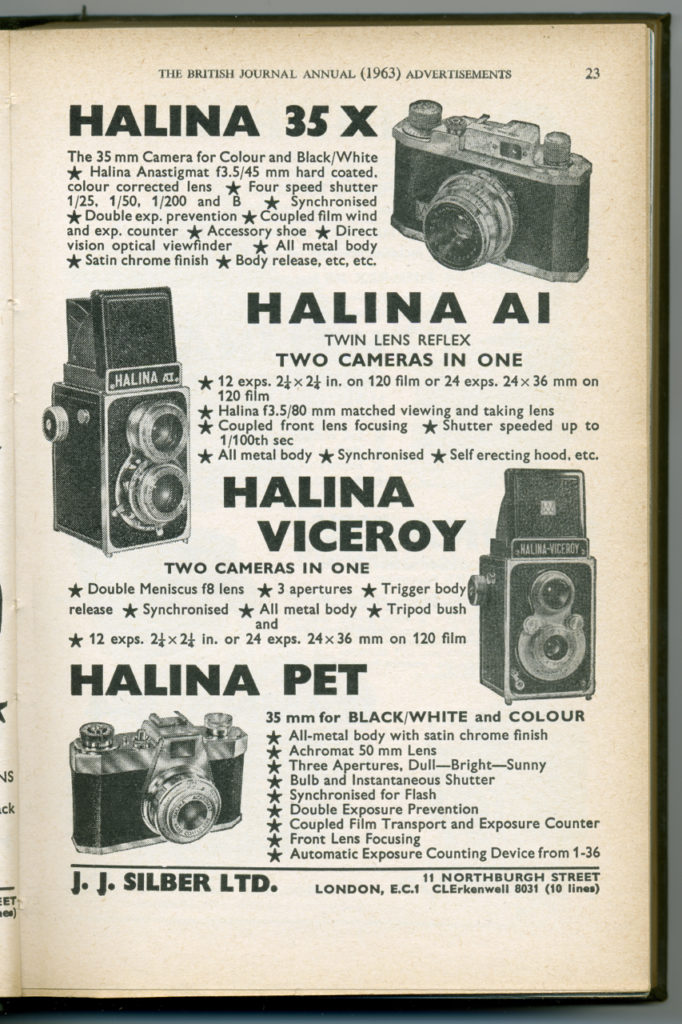 Very few cameras at this time included any kind of ability to establish the exposure. As part of the instruction booklet, you received a table from which to estimate the exposure dependant on film speed, subject and general light conditions. It looked like this.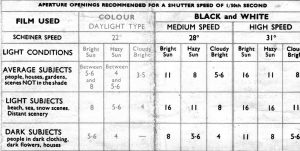 This system was pretty hit and miss. For some more information about how basic photography was in 1960 and how I overcame it, go to 'Technical Stuff'.
The Halina was pretty devoid of useful controls but I had to make do with what I could afford, however, my deal with Croft's did extended to the free development of my own black & white films when there were others to be processed for customers. This was a regular job which involved loading films onto metal spirals, putting these into a cage and then passing this through tanks of developer, stop bath and fix, all in the complete dark. And so it was that my pursuit of recording the last days of steam gave me a thorough grounding in what was to become my lifetime occupation.
My music business pictures are available at Getty Images.